(Examples) Using Windows Live Web Services APIs, developers can create mashup applications to meet an endless number of business objectives :
http://dev.live.com/mashups/default.aspx?api=virtualearth
Web 2.0's
Most Ridiculous Sites
(Simple object property)
Center a map
(on your user's location)
589 maps
for
Lux Delux
.
BedMaps
("We leave maps behind in our wake.")
(Self-paced, online workshop)
Information Mapping Starter Kit
(
Chinese Handcuffs
) Red2Green
Extensions
More
Lordy Rodriquez
(map artist)
Bid to ban
"extremist" (South Park) U.S. cartoon
Referenced
"Via"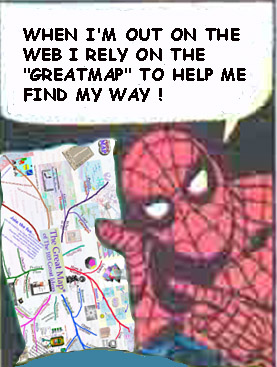 Long time no see ----->>>>>>>>
"One never goes so far as when one doesn't know where one is going." - Goethe
"In all affairs it's a healthy thing now and then to hang a question mark on the things you have long taken for granted." -
Earl Bertrand Russell
(1872 — 1970)
"By keenly confronting the enigmas that surround us, and by considering and analysing the observations that I have made, I ended up in the domain of mathematics." - M.C. Escher (from To Infinity and Beyond, Eli Maor)
"There is one art, no more, no less: to do all things with artlessness." - Piet Hein
"Create the world, the interface will follow." -
Adaptive Path