"New Visions of Nature, Science, and Religion"
:
http://www.mat.ucsb.edu/~g.legrady/academic/courses/06w259/projs/jb/finalproj.htm
(cross-disciplinary program).
Proto Mashup
: Craigslist, Yahoo! Pipes & Maps, and Email
Nanotech Squeezes Bible onto a Pinhead :
http://popsci.typepad.com/popsci/2007/12/nanotech-squeez.html
STOLEN MAPS DATABASE :
http://www.missingmaps.info/
Visual Thinking
imagery
Spatial Visualization through Cartographic Animation :
http://libraries.maine.edu/Spatial/gisweb/spatdb/gis-lis/gi94078.html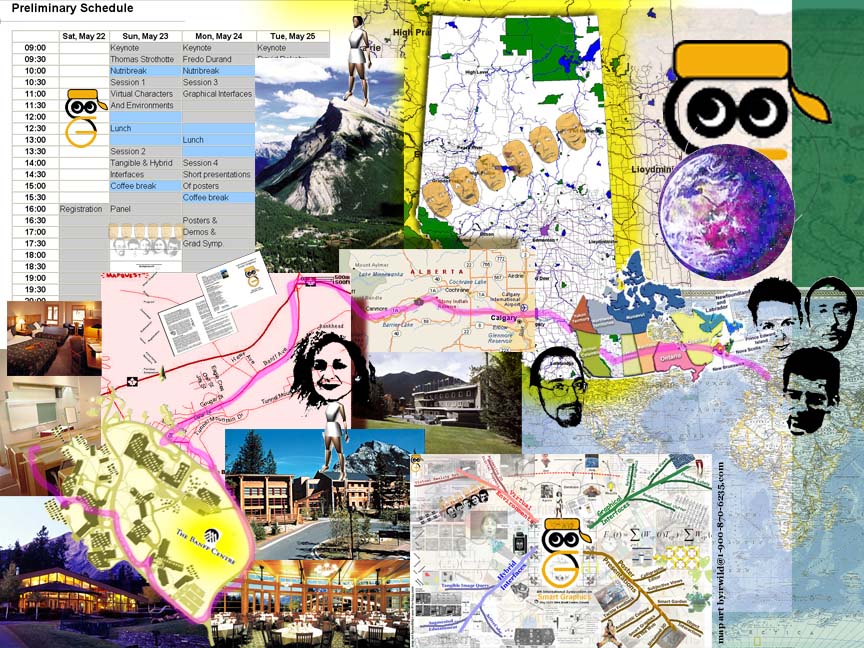 Amazing Illusions
Faceted map (from London to Banff) ----->>>>>>>>>>>>>>
(Book)
Digital Art Studio
: Techniques for Combining Inkjet Printing with Traditional Art Materials
Description
of 5 C-print papers
(Definition) 'savour' - taste appreciatively
"The goal of our present endeavor is to produce a transdisciplinary world-view which will sustain human existence into a continuous future." -
Paul Laffoley
"Dance life's dance, just a few steps at a time, and in the wink of an eye you will wonder to yourself, 'What beast, what mountain? Was I having a dream?'" - The Universe
"The experience of life in a finite, limited body is specifically for the purpose of discovering and manifesting supernatural existence within the finite." - Pythagoras
"The first thing to do when you're in a hole is stop digging." - ?
"Certain flaws are necessary for the whole. It would seem strange if old friends lacked certain quirks." -
Johann Wolfgang von Goethe