Digital Maps Going Beyond the Roads :
http://hosted.ap.org/dynamic/stories/D/DIGITIZING_ROADS_II?SITE=KREM&SECTION=HOME&TEMPLATE=DEFAULT
Decode Barcode
Map :
http://www.turbulence.org/Works/swipe/state_analysis.html
'Roll Your Mouse Over a State or Province' to see lists of information encoded on drivers' licenses (in the US and Canada).
A Global Map of Existing Maps : http://gollumlab.dyndns.org/mapomatix/cgi-bin/mapframe.pl?name=world
(using Adobe SVG Viewer plug-in with IE) Via http://mapomatix.sourceforge.net/
"Visual thinking and spatial reasoning skills are important in creative discovery, and ordinary problem solving." :
http://code.arc.cmu.edu/visual/
Via
http://code.arc.cmu.edu/lab/html/projects.html
#
OceanRaceMap :
http://www.volvooceanrace.org/images/downloads/routemap_highres.jpg
"The New Sense of Place" (the convergence of cartography, geography, and digital media) radio show can be streamed or downloaded :
http://www.onpointradio.org/shows/2006/01/20060103_b_main.asp
PhotoShop 3D Relief Shading Tutorial :
http://www.internationalmapping.com/index/_Downloads/Shaded_Relief_Tutorial.pdf
MAP FOLDING TECHNIQUES :
http://www.map-reading.com/appendb.php#figb-2
One of the first considerations in the care of maps is its proper folding.
IAN Symbol Libraries contains over 1500 vector symbols in 32 libraries (Illustrator symbol palettes) :
http://ian.umces.edu/index.html?http&&&ian.umces.edu/conceptualdiagrams.php
"An opportunity for emerging artists to develop and create new public works in San Francisco that investigate diverse strategies for exploring and mapping public space." :
http://v1.soex.org/index.html
(in the SoEx OFFSITE section)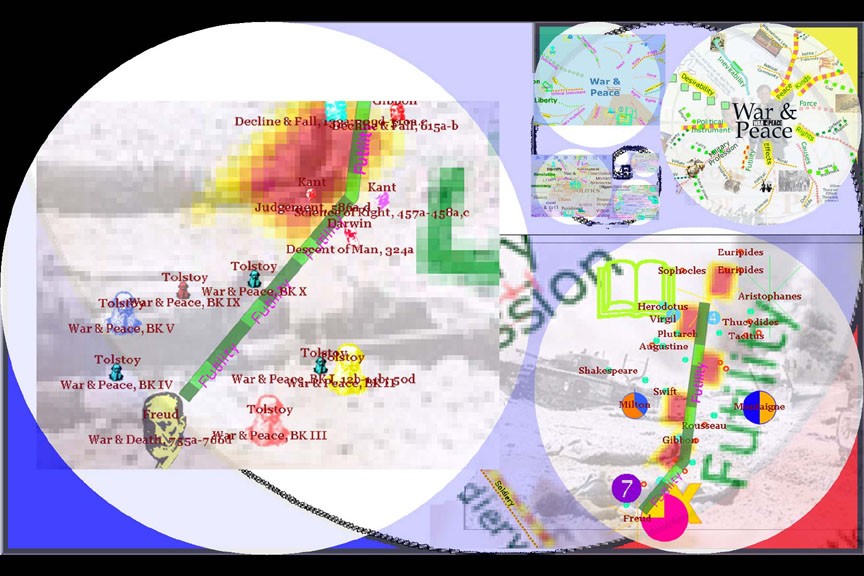 http://www.1-900-870-6235.com/eLearning/GreatIdeas/WarPeaceZoom.htm
---->
The (famous) Piri Re'is Map :
http://www.vrcurassow.com/2dvrc/maps/pirireis.html
More
http://www.amazing-optical-illusions.com/new9.htm
"JOHN SPEED" :
http://johnspeedmaps.co.uk/johnspeed.htm
Arguably the finest cartographer that Great Britain has ever produced.
A long-lost map of the Middle East belonging to Lawrence'of Arabia' (
http://telawrence.net/
) has been put on exhibition at the
Imperial War Museum
in London. Via
http://en.wikipedia.org/wiki/T.E._Lawrence
Some one working at Microsoft Corp
MSFT
One Microsoft Way, Redmond WA 98052
131.107.255.255
likes this map
http://www.1-900-870-6235.com/eLearning/LibraryMap.htm
"Nothing focuses the mind better than the constant sight of a competitor who wants to wipe you off the map." - Wayne Calloway, American Businessman, CEO of PepsiCo
"Experiment with alternative belief systems, enter alternative cognitive grids and, as the Zen Master said when asked the way of the Tao, "Move!" via
http://www.geocities.com/Athens/5952/mquotes.html
"A thinker sees his own actions as experiments and questions--as attempts to find out something. Success and failure are for him answers above all." - Friedrich Nietzsche
"Mountains cannot be surmounted except by winding paths." - Johann Wolfgang Von Goethe, 1749-1832, German Poet, Dramatist, Novelist
"No less than the tourist, the writer of history profits from maps." - Charles F. Mullett
"He who breaks a thing to find out what it is, has left the path of wisdom. " - J.R.R. Tolkien
"Walk this way. No, _this_ way, with your knees bent. " - Marty Feldman as Igor in Young Frankenstein (movie)